Online Store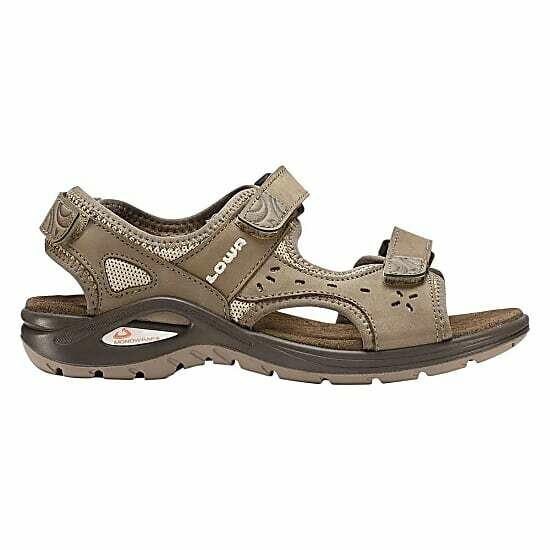 Lowa Urbano
SKU 1409
Product Details
Womens versatile comfortable outdoor sandal
Product description for Lowa W URBANO, Beige - Sand Footwear Female
Long live the sandal! Who can imagine travel in warmer climates without the Urbano for women by LOWA.
The completely new women's travel and outdoor sandal Urbano by LOWA is well suited for city explorations, shopping tours or excursions on an eBike just as it is for various outdoor activities, easy hikes or beach strolls. The comfortable footbed and nubuck leather upper with individually adjustable hook-and-loop closures guarantee a perfect fit and great comfort. Contributing to that is also the injection-moulded midsole that ensures effective cushioning and its special women's last.
This new made-in-Europe model has the specially developed LOWA® Sandal outsole.
Textile Lining: A fabric or synthetic lining makes footwear lightweight and breathable. Good abrasion resistance speaks for itself and ensures durability. In addition, it offers outstanding temperature management.
LOWA DynaPU®: The midsole is the heart of rolling properties and shoe cushioning. It is usually made from a foamed plastic. LOWA has exclusively developed a special polyurethane (PU) foam material that meets all cushioning, comfort and durability criteria: LOWA DynaPU®. The special feature: The material is extremely stable. It retains its stability and substance even when it is pressed together 1.000 times. As a result, the finished shoes will maintain their optimal cushioning ability even after you have walked many kilometres in them
Single Injection: In this manufacturing process, the outsole is directly sprayed onto the shoe. This manufacturing technique creates an exceptionally precise and very strong bond between the sole and upper
Fit Frame: In this construction style, the sole is designed as a type of shell that forms a perfect home for the foot. The result is guaranteed comfort
Very Flexible: Footwear labelled "Very flexible" has remarkably little rigidity. This footwear is characterised by exceptionally soft rolling properties
LOWA® Sandal outsole: Outdoor-oriented tread design with optimal traction in offroad terrain. Optimised rubber compound
Save this product for later